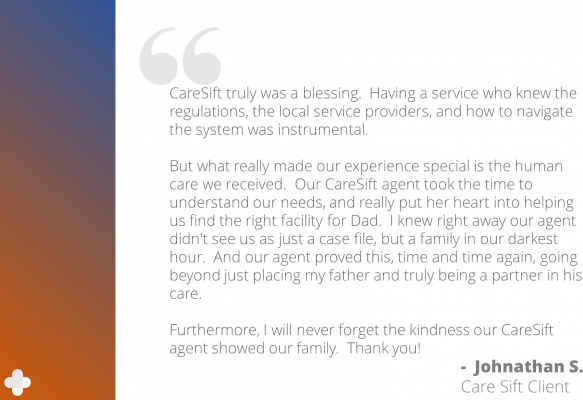 Caresift truly was a blessing.  Having a service who knew the regulations, the local service providers, and how to navigate the system was instrumental.  
But what really made our experience special is the human care we received.  Our Caresift agent took the time to understand our needs, and really put her heart into helping us find the right facility for Dad.  I knew right away our agent didn't see us as just a case file, but a family in our darkest hour.  And our agent proved this, time and time again, going beyond just placing my father and truly being a partner in his care. 
As hard as it is to say goodbye, I take great comfort in knowing my Father spent his last days in a place where could have peace, safety, and dignity … and that was made possible by CareSift.  Furthermore, I will never forget the kindness our CareSift agent showed our family. 
Thank you!  
 Johnathan S.