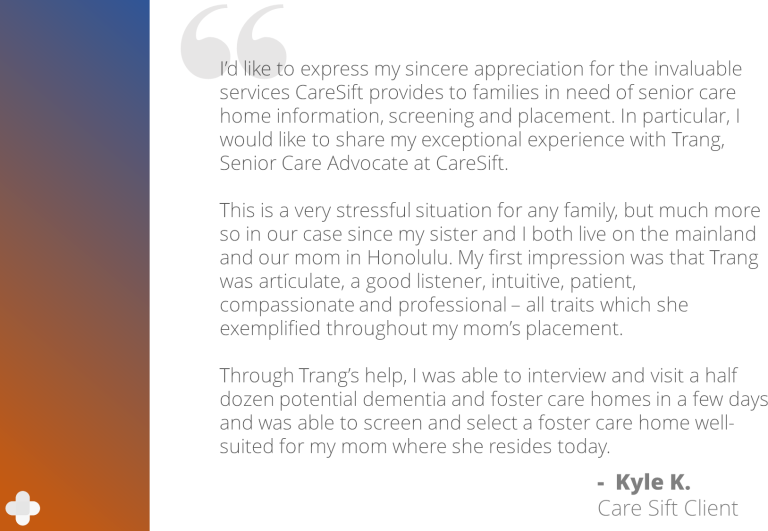 Aloha CareSift Team,
I'd like to express my sincere appreciation for the invaluable services CareSift provides to families in need of senior care home information, screening and placement. In particular, I would like to share my exceptional experience with Trang, Senior Care Advocate at CareSift.
Trang was proactive from day 1, calling me back the same evening I contacted CareSift when my mom was notified by her care home of impending discharge. This is a very stressful situation for any family, but much more so in our case since my sister and I both live on the mainland and our mom in Honolulu. My first impression was that Trang was articulate, a good listener, intuitive, patient, compassionate and professional – all traits which she exemplified throughout my mom's placement.
My mom's placement was not easy with her rapidly progressing dementia and disruptive behaviors. Trang's dedication and availability are also traits she possesses which became evident as she helped us work through placement issues with my mom. Trang was always available on short notice to offer advice and work through problems which arose during days, evenings and even on weekends. For example, due to extenuating circumstances, I was contacted early on a Sunday morning (the day I was scheduled to return to the mainland) by the care home my mom was transitioned to, to inform me that they could no longer care for my mom and that my mom needed to be discharged as soon as possible. My mom's case manager was unavailable, but Trang was there to help me through this urgent situation by reassuring me that this will be worked out, facilitating an amenable solution with the care home.
Through Trang's help, I was able to interview and visit a half dozen potential dementia and foster care homes in a few days and was able to screen and select a foster care home well-suited for my mom where she resides today.
Mahalo plenty!
Kyle K.