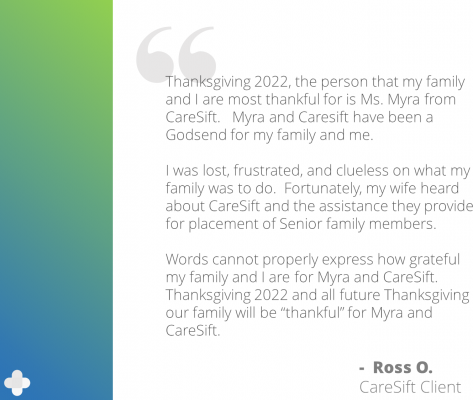 Thanksgiving 2022, the person that my family and I are most thankful for is Ms. Myra from CareSift.   Myra and Caresift have been a Godsend for my family and me.   A few months ago, my 84-year-old Aunt was diagnosed with Stage 4 Cancer.  My Aunt lived alone in an 80+ year old "very lived in" home.   The house also had 50+ stairs to get to the front door.  As my aunt's health started to decline, my family and I knew that she could no longer live by herself.   Unfortunately, my family and I knew that we could not care for my aunt at our homes.
I was lost, frustrated, and clueless on what my family was to do.  Fortunately, my wife heard about CareSift and the assistance they provide for placement of Senior family members.   After contacting CareSift, Ms. Myra became our Senior Advocate.   
Myra instantly provided help, counsel, and reassurance that she would assist and guide our family on the Senior placement process.  Myra's calm, friendly, knowledgeable, personable, and caring personality helped me instantly.   Thanks to Myra and CareSift our family was able to learn about MedicAid; Estate Planning Documents; Application Requirements; and the different Care Facilities and the various services provided.   Myra helped my family and I navigate the wide diversity of various services different Care Facilities provided.   
Every time that I contacted Myra over the phone or e-mail, she addressed my ever questions or concerns.  For any question Myra was not able to answer immediately, she researched and inquired with the specific subject matter expert and responded to me in less than a day.   My family had a question involving the State's medical application requirements.   To answer with the most current information Myra and CareSift inquired directly with the State Department of Health.   Fortunately thanks to Myra and CareSift's large listing of resources, a number of Care Facilities contacted me about my aunt.  
Without Myra I would not have known about any of these facilities have no clue on how my aunt could apply for residency.   As my family and I were talking with and touring the different facilities Myra assisted us every step.   Myra was able to guide and help with any questions that we had on how to apply for a Facility tour, the services that we should be aware of, and the financial implementations for each facility.   
Thanks to Myra in less than 30 days from initial contact with her, my family and I were able to move my aunt into the facility of her choice.   My aunt is able to age in place gracefully in the facility of her choice.     
Myra has a wonderful ability of being a constant professional while being a friend that genuinely cares.  She is incredibly knowledgeable with both academic and personable expertise.   Any family that works with Myra will know instantly her only objective is getting the best potential care and support for the Senior family member and supporting the entire family.   Communicating with Myra is like conversing with a "long-time trusted family friend."  Myra is a wonderful and perfect representative for the CareSift Team.  
Words cannot properly express how grateful my family and I are for Myra and CareSift.  Thanksgiving 2022 and all future Thanksgiving our family will be "thankful" for Myra and CareSift.    
Ross O.