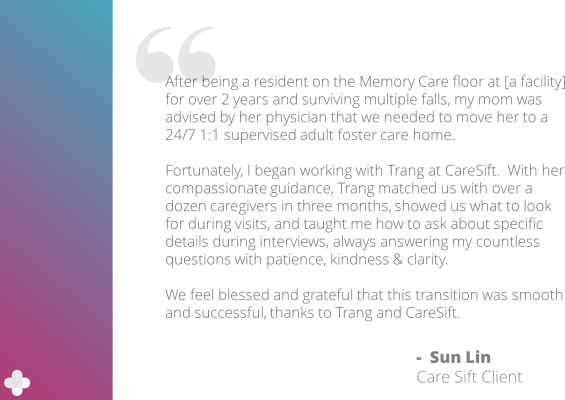 After being a resident on the Memory Care floor at [a facility] for over 2 years and surviving multiple falls, my mom was advised by her physician that we needed to move her to a 24/7 1:1 supervised adult foster care home. I'm 74 years old, an only child, and retired.
Fortunately, I began working with Trang at CareSift. With her compassionate guidance, Trang matched us with over a dozen caregivers in three months, showed us what to look for during visits, and taught me how to ask about specific details during interviews, always answering my countless questions with patience, kindness & clarity. My living 3,000 miles away was not an obstacle to her always-prompt responses.
She protected and respected us clients and always welcomed feedback. We were able to find Mom's final home where she just celebrated her 98th birthday with the wonderful caregivers who immediately welcomed her into their family.
We feel blessed and grateful that this transition was smooth and successful, thanks to Trang and CareSift.
Sun Lin