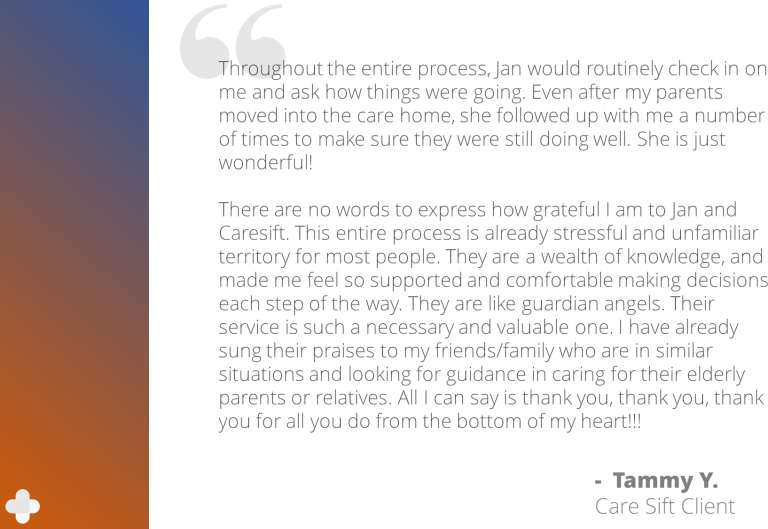 I was referred to Caresift, and little did I know at that time, what a huge blessing this would be. 
They provided me with guidance and assistance on two separate occasions.
Jasmine helped me the first time, when I needed to find in home caregivers for my parents. She was very efficient and helpful. Within a week, everything was setup for a caregiver to start.
My second and most recent experience occurred as my parents' needs increased and we needed to transition them to a care home. This time, it was Jan who helped and guided me through every step of this process. At that time, I felt so overwhelmed and did not know where to begin this search. It was even more challenging, as both my parents needed assistance and I wanted to find a home where they could continue to be together. I felt so fortunate to have had Jan's guidance and knowledge. She was so caring, compassionate, and genuinely kind. Jan was amazing, in how efficient and quick she was to reply to texts and emails, and get the process in motion. Within a day or two from our initial conversation and interview, she had arranged tours of four care homes for me. In a little over a week – my parents were set to move into their newly found care home. Throughout the entire process, Jan would routinely check in on me and ask how things were going. Even after my parents moved into the care home, she followed up with me a number of times to make sure they were still doing well. She is just wonderful!
There are no words to express how grateful I am to Jan and Caresift. This entire process is already stressful and unfamiliar territory for most people. They are a wealth of knowledge, and made me feel so supported and comfortable making decisions each step of the way. They are like guardian angels. Their service is such a necessary and valuable one. I have already sung their praises to my friends/family who are in similar situations and looking for guidance in caring for their elderly parents or relatives. All I can say is thank you, thank you, thank you for all you do from the bottom of my heart!!!
Tammy Y